Last Sunday I ran the Calgary Marathon. It was my first ever Marathon outside of the United States and my 22nd marathon overall.
Running a marathon outside of my native homeland of thee USA has been on my bucket list for some time, but my decision to run this marathon happened by chance. My girlfriend Shannon and I had planned a trip to her native Calgary to visit her family. She just happened to ask me, after we had already booked the trip, when was the Calgary marathon? I Googled it and it turned out it was taking place the same weekend as our trip. I thought, what the heck, I might as well! The reg fee was quite reasonable and I did want to run a foreign marathon for the first time.
Of course Western Canada is the kind of place where an American has to keep reminding themselves that they're in a foreign country. Unless you're handling the money or getting Timbits from a Tim Horton's it's a lot like the US. At least in Calgary. (I understand that Eastern Canada can be a wee bit more exotique' than the Western portions, which is why someday I may go for a Marathon in Toronto or mayhap Montreal. Pourquoi pas?)
I've run in all kinds of conditions: Through pouring rain, through 110 degree heat, and I once ran a marathon that was so cold the water at the aid stations instantly froze as it hit the ground. (Skated through the aid stations we did!) Some people expressed concern that the elevation might be a bit much for me, (Just under 3,500 feet,) but I didn't think it was going to be a problem. I've run races at much higher elevations in Utah! The day of the race was sunny and cool, and some people complained about the heat that showed up later in the day, but I never thought it became all that hot during the race.
What killed me was the dry air. Arid was the keyword for this race.
Our start line was Stampede Park, home of the Saddledome stadium as well as a principle site for thee Calgary Stampede in the summer. The start went well. The sun was up, there were a few clouds in the sky, and there was a cool breeze. Unlike every other marathon I've ever run, this course was marked out in kilometers rather than miles. (No doubt my yankee friends will be confused when they see my race shirt. "You ran 42 miles???") We ran up to cross the Bow River and did a loop-de-loop to cross back over again. At one point I was on an overpass and could see the elites down below, racing along the river. We only ran a few kilometers before we doubled back and ran back over the river, skirting the Stampede Park grounds before descending into Calgary proper.
Most of the course took place in the Southwest portion of Calgary. We ran through many residential neighborhoods as well as parks and a few places that looked like universities. I saw a lot of construction, especially in residential neighborhoods. From what I can tell, Calgary is experiencing a construction boom. Weatherwise we lucked out. It remained sunny, but had not gotten too warm. Cool breezes and occasional cloud cover helped keep us going. My strategy was to keep a "just finish" pace for the first half and see how I was doing by kilometer 21. (Was recovering from a minor injury. I strained a thingy in my leg. My PT can give you the latin for it. Weird injury.) At the halfway point I tried to kick it up a notch, putting a little more oomph into my pace to try and keep a decent marathon pace
By the 26th kilometer I suddenly began hitting the wall hard. It wasn't that my legs were sore or tired, or that I wasn't carbed up enough. I was dry. Completely dehydrated. My mouth was hanging open, gasping for water, the way a suffocating person would gasp for air. I was quite obviously not prepared for Calgary's dry, dry air. Like I said, I've never run a marathon outside of the US, but I have travelled far for marathons: Austin, Orlando, Chicago, and Portland. Despite being vast distances from my soggy homeland of San Francisco I've never had any really unusual problems with the atmosphere during any race. But I was far North this time. Up instead of lateral.
I limped to the next aid station and down two cups of water and a cup of electrolytes. I felt life return to my body and my legs. I took off shortly after the aid station and sprinted for about another kilometer before I slowed down again. This is how the rest of the race went for me. I would rehydrate, run a short while, and then dry out again.
Just after kilometer 28 we crossed over to the North side of the Bow River for more than 11 kilometers of running riverside. Fortunately as we started out along the river I got a boost from a few gel shots, as well as from a group of very nice people who were handing out popsicles. That ice confection really gave me a much needed boost. I kept downing water at the aid stations, but I was beginning to get concerned. I still felt dried out despite all of the fluids I was taking in, and I hadn't had to hit a porta potty for quite some time despite all the drinking I had been doing. I was starting to worry that I might be overdoing the liquids, and that maybe the way I felt was indicative of a physical condition that could endanger my well being, maybe even to the point of collapse or worse. It was at this point that I considered that I might have to drop out of the race, if for no other reason than to keep from collapsing from dehydration or overhydration or whatever the hell it was that was happening to me.
For the last 12.2 kilomteers I would run to the next kilometer marker and then take a walking break, walking just long enough to catch a second wind. I kept rehydrating, but cautiously, fighting back the urge to drink too much. I had hoped for a better marathon, but towards the end I was trailing in the back with the slowpokes. I did get a bit of a morale boost when we made a turn at kilometer 33 to head back towards Stampede Park. That's when I was able to see all of the runners behind me.
My partner Shannon met me about a kilometer and a half before the finish line with a bottle of water. I said the heck with it and chugged it, and it really picked me up for the final mile of this marathon. I limped in and got my very first ever non-US Marathon medal, a modest yet handsome medal that was designed to also double as a belt buckle.
Not very impressive time for a marathon, but not a bad time for having almost collapsed into a pile of dust along the route.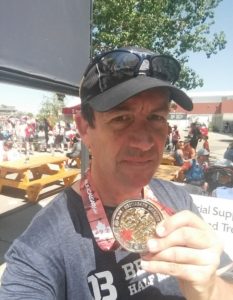 Myself with my well-earned medal on a dry Canada day. I would be smiling, but I was trying not to turn into a giant pile of dust at that moment! 🙂