Last Sunday I ran the California International Marathon. It was my fourth marathon this year, my 24th marathon overall, and my eighth CIM!
I am more familiar with the CIM than any other marathon. And I can tell you that even though it is a pleasant course, it is sometimes plagued with bad weather. Not so this time around. No rain, no extreme cold or high winds. I could tell, even in the dark at 5 AM, that it was going to be a nice day.
But things didn't start off so smoothly. I always stay at the Lake Natoma Inn near the start line in Folsom, and they always have a shuttle, (A school bus actually,) that would take us to the start line. Our shuttle was supposed to take off by 5:40 AM, but it had not even shown up by the time 5:40 had rolled around.
While I was waiting, I started talking to another runner about the marathon. (Mother of two, there with her husband and offspring, running the CIM again. I forgot her name.) By 5:50 AM yet another runner, a woman from Vancouver by way of Iceland, had joined us for our waiting-around-for-the-bus chat. We were talking about the CIM, our previous races, and running in general, until it came around to be 6 AM with still no bus. Now we were starting to worry. We were supposed to have been delivered to the start line by 6 AM. By this time half of the waiting runners, and there were at least fifty of them if not more, were on their phones getting Ubers and Lyfts. I got an Uber, which drove up right as several other Uber/Lyft cars were showing up. Myself and my two new running friends plus one more random runner who we nabbed, since there was room in the spacious car, were chauffeured to the start line by our Uber driver Cher, who mentioned that she had already brought several runners to the start line. (Never found out if that damn bus ever did show up!)
We showed up with just fifteen minutes to spare before the start, just enough time to warm up before the race. I was a little concerned because I had a tight left thigh that had been bugging me in my last few weeks of training, and I feared it would slow me down, or possibly even seize up and cause a DNF. (But I think that was just pre-race marathon jitters talking.)
Having run this race seven times before, I was quite familiar with the course, including the only real hill we would have to face in the first mile. "I thought this was a downhill race!" groused one runner. (Newbies!) I tried to keep my pace even, being as I'm one of those runners who always starts off a bit too fast.
I was also trying to keep my pace even because I am doing the Dopey Challenge in Disney World next month, and I was treating this marathon as my long run for that four day contest. w00t!
It was cold, but not nearly as cold as previous CIMs. It didn't take long for the sun to come out and start to warm us up. But it never got too warm. It was basically perfect running weather. In Folsom we ran by the familiar horses and many doggos that were along the course. (As well as a swarm of quacking ducks. Maybe they were cheering us on?)
By mile five I was in a good running rhythm. The tightness in my left leg was nagging me somewhat, and did slow me down just a bit, but was never a real problem. I wasn't too conerned at that time since this marathon wasn't going to be a PR attempt. Even so, I was happy with my progress, despite my slower-than-usual pace.
Last year I hit the wall pretty hard around mile 18. I managed to recover, but it really took a lot out of me for the last miles. This year I never really hit the wall. I was pretty fueled up and felt really good. I was happy with my pace by the time I came up on mile twenty.
My last few miles on the course went along just fine. My iPod helped propel me through the last six miles which I ran heartily, except through the water stations where I took short walking breaks. The weather could not have been more pleasant for the entire run: Sunny and cool. Overall I did okay. I've done better, I've done worse. All in all, not bad.
Along the course: Talked to a woman who was wearing an Antarctica Marathon shirt. She told me about her frozen adventure, about how she saw whales and penguins and had a great time. A man holding a "Matt Damon is waiting for you at the finish line sign. Me: "Matt Damon? Blah!" Guy with sign: "Okay, Matt Lauer is right behind you. Run!" Two women right at the mile 26 maker holding a large sign: Congratulations! You (probably) aren't going to die!"
Here's a picture of The Wall at Mile 20. Yes, they set up an actual wall! 😛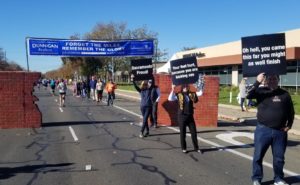 More pics: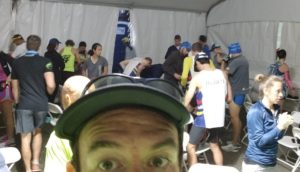 Me and a few of my fellow Lake Natoma Inners in our VIP warming tent, just before the race!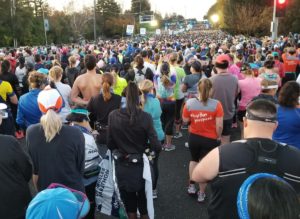 Just before the start of the race.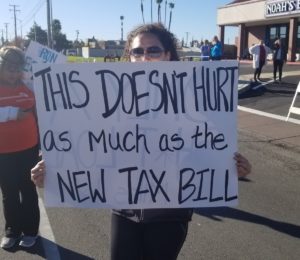 One of the signs along the course. XD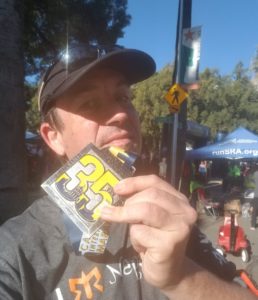 At the end with my medal. This medal was HEAVY! I think it's the heaviest marathon medal I've ever gotten. Seriously, it's like a steel plate!